eBoard Retractable Power Side Steps // Tyrant 4×4 Accessories
The eBoard Retractable Power Steps, the latest product to make your 4WD, SUV or Ute not only stand out from the crowd but also to help you and passengers get in your vehicle and also to keep functionality of a typical running board without having to compromise on style.
All our eBoards are made from Premium Die Cast Aluminium with military specification finish to resist from corrosion. Furthermore Built with a patented mounting motor brackets, made of steel and aluminium to ensure a sturdy and rugged fitment on both sides for your vehicle.
Facts & Features of Eboard
Load Rated: 300KG (Each Side)
Easy to install, No Drilling OR Cutting Required
High Strength, Weatherproof and maintenance free
Non-Slip Surface
Tested Working Temperature of -40 degrees to 80 degrees Celsius
ADR Certified (Australian Design Rules)
Available with LED Down Lights
IP68K Rated (Dustproof & Waterproof)
Patent 6 Bar Linkage which can achieve optimized trajectory control, where it is more reliable and less noise against other lesser linkage motors.
24 Months Warranty
Sample Text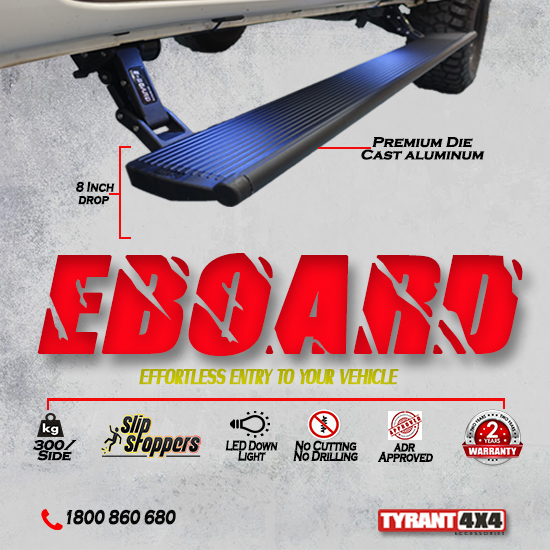 Our eBoards are to suit a wide range of vehicles including:
Ford Ranger PX Series, Everest, F150
Toyota Hilux N70 & N80 series, Landcruiser 200, Prado 150, FJ Cruiser, Tundra, Fortuner
Dodge Ram
Isuzu Dmax & MU-X
Holden Colorado RG Series, Colorado 7, Trailblazer
Jeep Grand Cherokee, Wrangler JK, Wrangler JL
Mercedes X-Class
Mitsubishi Triton MQ / MR
Volkswagen Amarok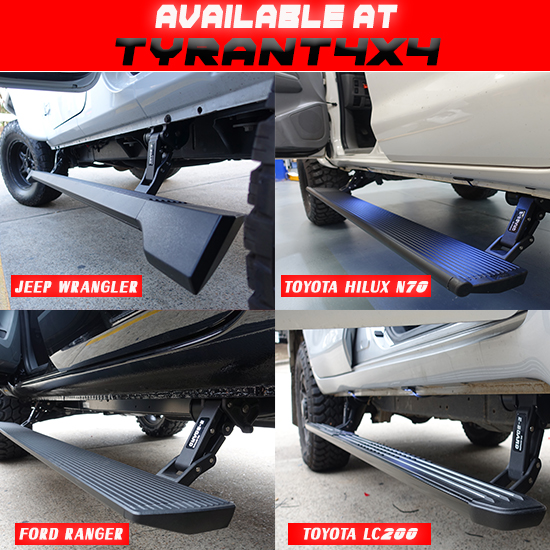 The eBoard Retractable Power steps are designed with an intelligent monitoring system which is able to sense whether it extends or retract. Each side of eBoard retractable power steps are driven by two 6 bar linkage mounting brackets on each side of the vehicle to ensure that there is sufficient force to reliably retract and extent without any problems.

Most owners who buy SUVs, 4WDs and Utes are to travel around with friends and family. With majority of owners being lifted, making it mnuch higher off the ground which then some drivers may struggle entering and exiting the vehicle. This is where the eBoard Retractable Power steps comes into play giving you both functionality and style as well as keep ground clearance higher and hidden compared with factory side steps.
Below are some of our youtube videos on our eBoard Power Steps, make sure you follow our page on youtube, facebook and instagram for all things 4×4!