Here at Tyrant 4×4, we are stocked with the largest range of quality Ford Ranger aftermarket accessories including eBoard Retractable Power Steps, light trims, bonnet protectors, nudge bars, bull bars, light conversions, lift kits and much more. If you're looking to deck out your Ford Ranger, then you've come to the right place.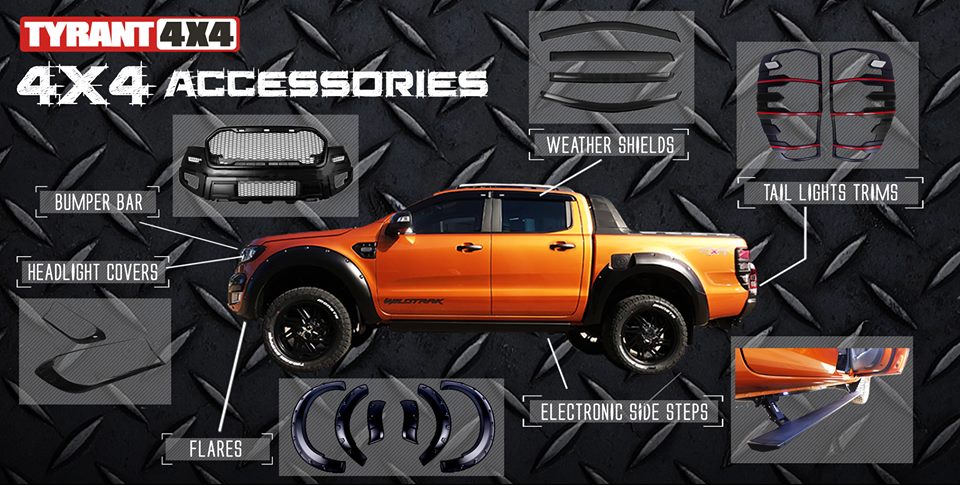 Why Buy Ford Ranger Accessories at Tyrant 4×4 Accessories
Tyrant 4×4 Accessories your trusted one stop shop for all aftermarket accessories which over 20 years experience. With in-house experts, engineers who manufacture and test the parts to make sure accessories are fitted perfect against any Ford Ranger. We provide some of the insane builds of Ford Ranger in the market.
Accessories From:
Bull Bars
Nudge Bars
Weathershields & Bonnet Protector
Fender Flare Guards
LED Light Conversion Kits
Headlight & Tail Light Trims
eBoard Retractable Power Steps
Body Moulds
Roof Racks & Cages
Wheels, Tyres & Suspension & much more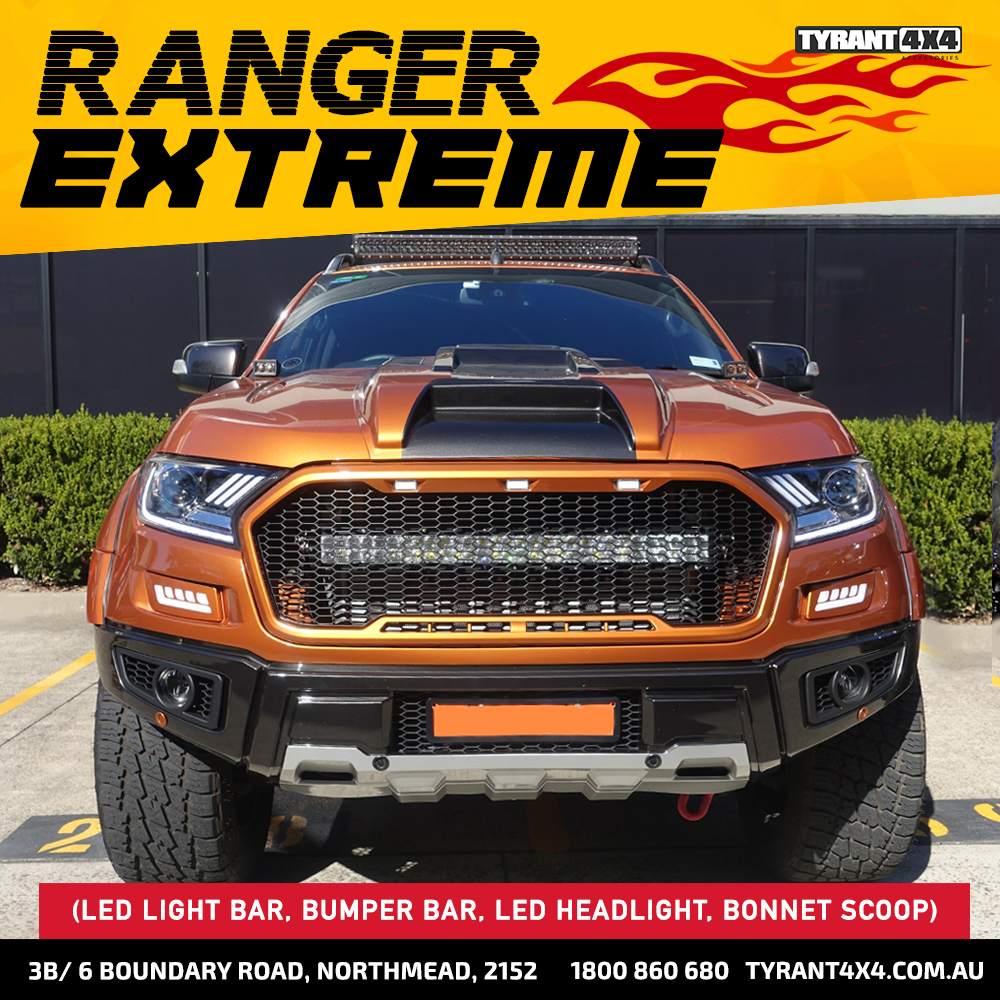 By having weathershields on your Ford ranger will firstly give it a more stylish look while also reducing sun glare and wind deflection while driving on or offroad. Weathershields are perfect for all cars without air-conditioning or people who enjoy driving with the window down.
Most owners who buy SUVs, 4WDs and Utes are to travel around with friends and family. With majority of owners being lifted, making it mnuch higher off the ground which then some drivers may struggle entering and exiting the vehicle. This is where the eBoard Retractable Power steps comes into play giving you both functionality and style as well as keep ground clearance higher and hidden compared with factory side steps.
Pro Lifts Tail Gate Assists is simply the best in the market and a great addition to your vehicle's tailgate. The tail gate assists not only dampers the weight when reclining but also reduces weight when inclining. Pro Lift stops your tailgate from slamming and makes your life so much easier to open up and close your tail gate.
Tail Gate Central locking is a great add on with the Pro Lift tail gate assist, as it puts your mind at ease knowing that you tailgate is locked after you've parked your car.
[kc_image_gallery columns="4″ image_size="full" alt_text="__empty__" _id="985410″ images="31788,31790,31791,31767″ type="grid" click_action="none"]
Make Sure You Visit Us Tyrant 4×4 Headquarters in Northmead or any of our Tyrant 4×4 Stores or Distributors around the Nation. Any inquiries, email us through sales@tyrant4x4.com.au or phone us up on 1800-860-680! Be sure to follow all our social pages for upcoming events, new product release and more!